Enjoy a class, or two, offered by the Community Education Center at Sussex.
Classes will be held in-person and via Zoom, please check descriptions for details.
Read the important information here before moving forward.
1. You must fill out the Community Education Request login ID: REGISTRATION FORM.
2. You will receive two emails. The first will be a verification email. The second will have a student ID, a password, and a link to log into Cashnet. Once in Cashnet, scroll down to see the courses. Choose your course and make a payment. Enjoy!
For questions, please contact Linda Connor, CE Coordinator,
lconnor@sussex.edu or call 973.300.2132
Exercise Science Classes – Live, in person
Chair Exercise for Older Adults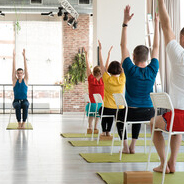 This 45 minute exercise class will focus on total body conditioning with simple use of a chair and light weight implements. The exercise routine will consist of cardio, strength, balance and flexibility exercises to improve body function and help reduce chronic pain. Please bring two light-weight dumbbells or any two light-weight household items such as soup cans or water bottles.
Dates: Fridays, October 22, November 12, December 10
Time: 12 noon
Location: PAC Atrium (A Bldg)
Cost: $10 per class
Horticulture Classes – Live, in person
How to Close-out Your Home Garden
Learn practices to close out your garden and ensure a healthy soil environment over the winter and into the new year. Erin Collins, Horticulture/Agriculture Program Supervisor will cover topics including cover crops, sheet mulching, composting, liming and why these practices are vital to a healthy garden.

Date: Saturday, October 23
Time: 10 – 11:30 am
Location: SCCC Greenhouse
Cost: $10
Late Season Growth and Winter Preparations for a Successful Early Spring
Start getting ideas now on how to jump start your garden for spring. Join Erin Collins, Horticultural/Agricultural Program Supervisor as she explains this process including purchasing seed, scheduling and other practices you can implement such as fall plantings and season extending.

Date: Saturday, November 20
Time: 10 – 11:30 am
Location: SCCC Greenhouse
Cost: $10
Turf Grass and Turf Grass Management

Zach Holm, Turfcare Manager at Central Park Conservancy NY and SCCC Adjunct Instructor, will discuss turf grass management practices in a professional sports setting and how to apply them to your own lawn. The presentation will also examine the role of lawns and the environment, including fertilizer and water bodies. Bring questions, send pictures; once registered, you can send questions ahead of time.
Date: Saturday, December 4
Time: 10 – 11:30 am
Location: PAC Atrium
Cost: $10
Cooking Classes on Zoom
Christmas Cookies

Join Pastry Chef Katharine Satter in a favorite holiday tradition of making Christmas cookies. Chef Kate demonstrate a few different recipes, techniques & tips for making better cookies.
Date: Thursday, December 9
Time: 7:00 – 8:00 pm
Location: Zoom link will be provided upon payment
Cost: $10
Sample Menu:
Ginger Molasses Crinkle Cookie
Traditional Shortbread
Spritz Butter Cookie