Students looking to begin an associate degree or certificate program, continue their studies, or get ahead in their professional career can register at Sussex County Community College. Registration for the Spring 2020 Semester is open.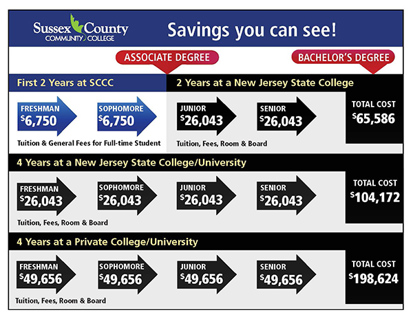 New academic program offerings and campus changes make Sussex the best college around to begin an exceptional education. With over 70+ degrees and certificates, nine athletic programs, including a new football and wrestling program, Sussex has something for everyone.
Sussex offers an array of robust Career and Technical Programs that help support the growing need for a skilled workforce in New Jersey. Machine Tool and Optics Technology, Diesel and Automotive Services, Electrical Lineman, and Massage Therapy are a few of the 32 Associate of Applied Science programs that help students transition into a career upon graduation.
The College will be holding extended office hours to accommodate students who would like to register for the Spring 20 semester. 
Monday: 8 a.m. to 6:30 p.m.
Tuesday & Wednesday: 8 a.m. to 5 p.m.
Thursday: 8 a.m. to 6:30 p.m.: Jan. 9, Jan. 16 and Jan. 23.
Friday: 8 a.m. to 5 p.m.
Saturday: 9 a.m. to 12 noon: Jan. 18 and Jan. 25
The following offices will be open for the extended hours; Advising and Counseling Center, Bursar's Office, Financial Aid, and the Registrar's Office. Note: The College will be closed on January 20th in observance of Martin Luther King Day.
To fill out an application and get started, visit sussex.edu/apply. For more information, contact the SCCC Admissions Office at admissions@sussex.edu or call (973) 300-2223.