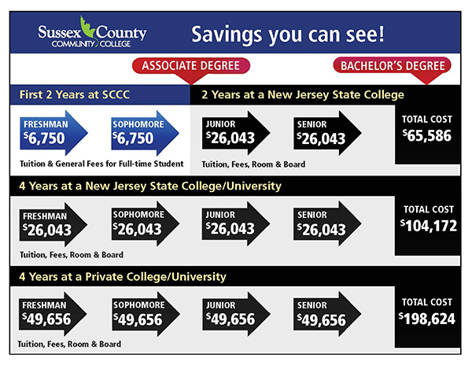 In today's economy, a college education is a necessity in today's competitive job market. But making a smart financial decision doesn't have to be difficult. Choosing a college, that is both financially affordable and academically challenging will help students earn a degree.
On top of a student's list should be to create a budget and implement a plan over the next four years. Weighing college options carefully before making a final decision will help keep finances in check. Keeping the cost of education down is one of the many reasons students should start at Sussex County Community College first.
Incoming students can begin an associate degree or certificate program, continue their studies, or get ahead in their professional careers at Sussex. Registration for the Spring 2021 Semester is open.
New academic program offerings and campus changes make Sussex the choice to begin an exceptional education. With over 70+ degrees and certificates, eleven athletic programs, including a new football and wrestling program, Sussex has something for everyone.
Sussex offers an array of robust Career and Technical Programs that help support the growing need for a skilled workforce in New Jersey. Machine Tool and Optics Technology, Diesel and Automotive Services, Electrical Lineman, and Massage Therapy are a few of the 32 Associate of Applied Science programs that help students transition into a career upon graduation.
To view courses and how courses will be delivered for the spring visit sussex.edu/register. 
NEW STUDENTS: To fill out an application and use our Express Registration to get started, visit sussex.edu/admissions.
For information on admissions, contact the Sussex Admissions Office at admissions@sussex.edu or call (973) 300-2223.