You're at college, what's next?
Degree UP helps students create a strong foundation for academic and personal success.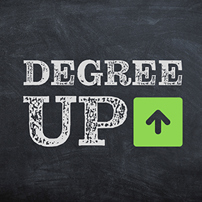 We provide the following services free to students:
Peer Tutoring
Study buddies
Computer Access
Textbook loan library
Volunteer opportunities
Financial Assistance
Grocery Bag Distribution Program (Wednesdays)
School Supplies
Degree UP is about students helping students: Everyone is a teacher and everyone is a learner. Are you good in one subject, but struggle in another? At Degree Up, you can tutor someone in one subject and get tutoring in another! Degree up is now on Canvas. Sign up today!
Come on up, grab a snack, and get it done at Degree UP.
Academic & Athletic Building E, Room E105
Email at degreeup@sussex.edu or call (973)-300-2172
Hours:
Monday, Wednesday, & Thursday: 9:30 am-7:00 pm

Thursday: 9:30 am-4:00 pm
"As a student at SCCC, I've found Degree Up to be extremely helpful. I used Degree UP as a space within the college where I could go to study, have assistance from the tutors when I need it and use the computer lab, so I don't just pass my class but earn great grades. Degree UP not only helped me attain my degree but helped me overcome obstacles and connected me to other students."  SCCC Student
Degree Up is a collaboration between NORWESCAP and SCCC.